1. You begin to stuff your face with buffalo wings and corn chips during the pre-show.
2. Then you realize a beer would really complement the wings, you genius.
3. As the National Anthem is sung, you realize you are the epitome of being American – football, beer, food, and the Star Spangled Banner.
4. You yell "HEADS, HEADS, HEADS" at the screen before your team picks the coin toss.
5. You mentally prepare yourself for kickoff.
6. You start getting anxious since the score is staying at 0 – 0.
Anxious meets eating faster, right?
7. And hope that your team scores first.
8. Then you start hyperventilating when the other team is about to score.
9. And when they do, you just about lose it.
10. But you realize it's okay because it isn't even halftime yet.
11. You find yourself unimpressed with the commercials and start wondering where the funny ones are.
With food in hand, of course.
12. Then Doritos flies (get it?) in and restores your faith in Super Bowl ads.
[pexyoutube pex_attr_src="https://www.youtube.com/watch?v=YQo0TfuueaY" pex_attr_width="400″][/pexyoutube]
13. You refill your plate during halftime.
14. And "lose control" when Missy Elliot comes out.
15. Then, after Katy Perry is a firework, you are back in game mode.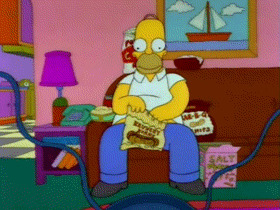 16. You realize your voice is getting hoarse from all the yelling.
17. But it's okay because helping out your team is worth it.
18. You start truly appreciating your food when a crappy commercial comes on.
19. And can't even taste it when the game is back because it's crunch time.
20. When the game finally ended, you were stuffed and exhausted.
21. And then you realize Katy Perry's shark was the real MVP.