Does this sound familiar to you?
You watch a lot of movies and TV. You have a great imagination. For fun, you close your eyes and make up your own stories, seeing them play out. You might even listen to some music for a soundtrack. You grab your favorite actors for the roles of the heroes and villains. You make up big action scenes in slo-mo. You use fighting moves from your favorite video games.
At some point, you realize the movie you're making in your mind is actually pretty good. You've got some original stuff in there that other people might like. You've got some twists and turns. And so you think, "Hey, I'll start writing this stuff down." Finally, you think, "This is going to make a great novel." You might even think, "I'll make a fortune selling the movie rights."
There's only one problem. (Well, there are hundreds of problems when you're writing, but there's only one I'm going to talk about right now).
Writing a novel is more than transcribing that movie in your head.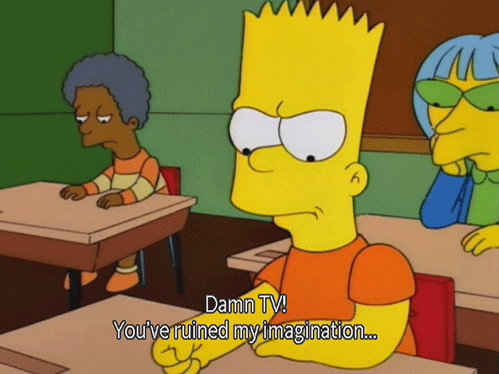 We Have More Senses than Seeing and Hearing
When people read a book, they want to feel they are "there," living the story. A sure sign a writer's got a movie playing in her head is that all the imagery in the novel is visual and auditory.
We smell, taste, have a sense of balance, feel, experience pain, get thirsty, itch, and a lot more of the same in our lives. While visual and auditory information take up a lot of our attention, we are easily distracted by a toothache or growling stomach. A room can look like heaven and smell like hell (especially when I haven't cleaned the cat box).
Writing that only uses two senses can never feel like life.
You Cannot Recreate Movie Effects in a Novel
The movie in your head might look fantastic. It might run like a video and be exquisitely detailed. But you must remember that your ultimate product is a bunch of words on a page. Watching something explode and reading that something exploded will not produce the same effect in an audience.
Moreover, you are writing a novel, not a movie script. Slo-mo, distorted sound effects, lens flares, rack focus, and other such techniques are made to produce a super-heightened reality for a story told in two hours on a huge screen in Dolby stereo while the audience downs oversized buckets of popcorn.
The words on the page are the only tools through which the reader experiences the story. They should not be tools to remind us of movies we've seen.
Too Much Detail Kills
The experiences of reading and watching a movie are different. While a busy and well-filled screen can make for an immersive experience, it is a strange quality of writing that often less is more. Writing should fuel the reader's own imagination by providing just enough detail and imagery. A single phrase on the page can build a universe in the reader's mind.
And I'm not just talking about literary classics like Hemingway's "The Killers," which is a masterpiece of using tight writing with specific detail to tell a story of great emotional impact.
I also mean something like Michael Crichton's Jurassic Park. The scenes where the dinosaurs attack people have short, direct sentences, quick and vivid descriptions of action, and terse dialogue.
Giving too much film-like detail and direction, no matter how beautiful it is in your head, actually stifles your reader's ability to make your story their own.
A Novel Has No Soundtrack
A pet peeve of mine: stories that use lyrics to popular songs in an attempt to simulate a soundtrack. A couple is dancing in the rain, and the radio is playing, "You'd think that people would have had enough of silly love songs. But I look around me and I see it isn't so."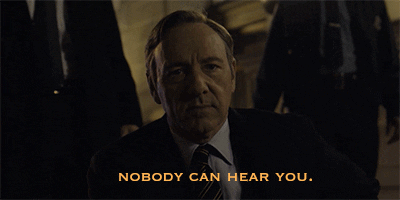 Blech.
More to the point, music is used in movies to set mood and drive pace. Good soundtracks do this well because, most of the time, we don't notice. Movie scores work best when the audience takes it in unconsciously, helping their heart to race or their tears to swell.
Reading takes conscious effort. When a novel mentions music, readers don't start playing the music in their heads, set the tune to "unconscious," and then keep reading. They think about the music and wonder what it's about. Then they stop thinking about the music and think about the next words on the page.
It's All About the Words
Let's take an example of great writing.
Yes, the newspapers were right: snow was general all over Ireland. It was falling softly upon the Bog of Allen and, further westwards, softly falling into the dark mutinous Shannon waves. It was falling too upon every part of the lonely churchyard where Michael Furey lay buried. It lay thickly drifted on the crooked crosses and headstones, on the spears of the little gate, on the barren thorns. His soul swooned slowly as he heard the snow falling faintly through the universe and faintly falling, like the descent of their last end, upon all the living and the dead.
("The Dead," James Joyce)
At first, yes, this could play out as a movie in your head: see the snow falling, see the bog and the water, see the churchyard.
But the passage does so much more, and what it does a movie can't. The repetition of the words and the soft sounds of "f" and "s" mimic the sound of falling snow, not like music but like thoughts. Look at how well we are put inside the character's head here. We experience the wandering of his mind across Ireland to Furey's grave. Look at how the reader is invited to get more meaning from the "barren thorns" than just an image of thorns covered with snow. Look at the grace notes. It reads like a poem.
Words and words alone make novels. That's what makes them so great and, for better or worse—depending upon which art form you favor—so unlike movies.